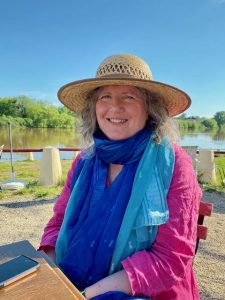 Anne Booth writes highly acclaimed children's fiction and picture books and is known for the exceptional warmth and authenticity of her writing.
She has MAs in Children's Literature and in Creative Writing and has published 24 children's books so far, with more to come. She is published with Puffin (Penguin), Nosy Crow, OUP, Lion, Tiny Owl, Templar,  Egmont (FarShore) and Catnip.  Her books include picture books, illustrated series books for 5-12 year olds and 7-9 year olds and novels for 9-12 year olds.   She has taught Creative writing at university and in adult education classes.
Recent highlights include picture books A Shelter for Sadness (Templar) illustrated by David Litchfield and Bloom (Tiny Owl) illustrated by Robin Wilson-Owen. Her latest picture book was published by Puffin Books in January 2023 and is called 'I send you a Hug', illustrated by Åsa Gilland
Anne's middle grade novel Girl With a White Dog was shortlisted for the Waterstones Children's Book Award. A recent Toppsta reviewer of that book, aged 13, wrote of Anne: "Uniquely thoughtful people like her who help us to reflect on the world are those destined to change it."
Anne also writes novels for adults.
---
Course Details
Start Date 19th May 2023
End Date 23rd May 2023
Price £ 650.00