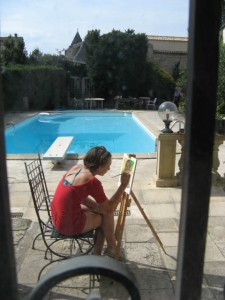 Sometimes a course isn't what you want. Sometimes you just want space. To write, to paint, to meditate, to read, or simply to catch up on sleep. Chez Castillon is quiet and as far removed from everyday life as it is possible to be. Join us for a long weekend or a week, and find out how it feels to leave real life behind.
Our tutors can offer guided retreats, giving you the space and time to work on your own projects, but with one-to-one tutorials to help solve those tricky problems. It's the best of both worlds, so if you're interested drop us a line.
To book a retreat, or to find out more, take a look at the practicalities, or email us.