Castillon La Bataille lies midway between Bordeaux and Bergerac, surrounded by vineyards in the heart of the Bordeaux wine region. A magnificent church overlooks a tree lined square which leads down to the wide and beautiful river Dordogne where vestiges of medieval gates and walls still remain. Formerly know as Castillon Sur Dordogne the name was changed in 1953 to celebrate the battle in 1453 which finally ended the hundred year war and restored French rule.
There is a lovely atmosphere in Castillon, especially on market days when the little town seems to come alive and the streets are filled wit
h wonderful colours, sounds and aromas. As well as a selection of smaller shops the town offers supermarkets, banks, a post office, pharmacies, a Maison du Vin, and a tourist office. Several bars, cafes and restaurants can be found overlooking the square and in the streets that surround it. They are all well tried and tested! On a summer's evening it is a joy to wander along the pretty waterfront, site of the ancient port before settling down to an aperitif outside one of the bars.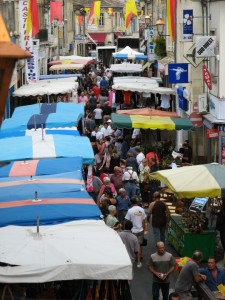 Market Day in Castillon…outside our front door.
The beautiful town of St Emillion is close by, and well worth a visit. The train station is a five minute walk from Chez Castillon and offers regular connections to St. Emilion, Bordeaux, Bergerac and on to Sarlat. If you're a wine connoisseur – or would like to be – there are plenty of opportunities for dégustation (tasting and tour) at various chateaux.